We all think about it. We all want to feel sexy and be the star of our own boudoirs. We all want to be adored and wanted and empowered.
Well, now you can have all of that...captured on film. The powerhouse trio of Carrie Roseman Photography, Jennie Fresa Beauty Library, and Beneath the Gown Lingerie Boutique are teaming up to bring you the ultimate Bombshell Experience. And we are introducing it to you Sunday, March 13, at the gorgeous Bee and Thistle Inn and Spa in Old Lyme. Come and get pampered for an hour and half with a full Bombshell Beauty makeover complete with hair and makeup followed by starring in your own photo shoot with yours truly. And before the session, Josie Jolon from Beneath the Gown, is offering to custom fit you with a lingerie set of your choice at 10% off the price tag.
Sexy glamour awaits...and this makes for a great gift for your partner, or simply do this for yourself. Beauty is in all of us, and all women deserve to showcase it in their own sexy way. See flyer below for details.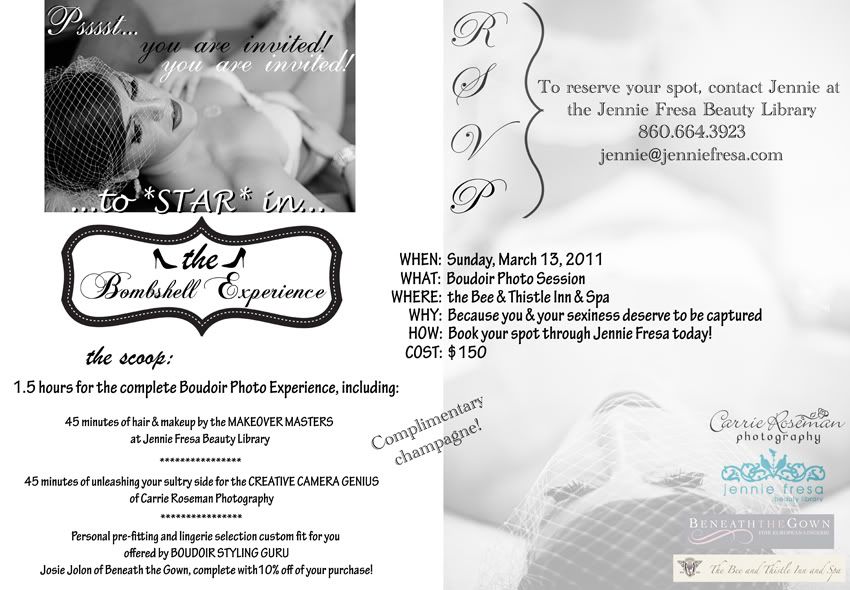 This could be you...